Product Description
(More Options Coming Soon)
Install video for Can Am Spyder F3
To install Motohorn on a Spyder F3 (2015 to current / all models)

Mount horn to upper frame rail using provided clamps and M6 bolts as shown in video. Leave clamps loose enough to adjust as needed for clearance on side panel.

Remove right side panel to install compressor and relay. Drill 8mm hole in plastic subframe to mount compressor as shown in video. Note positive and negative terminals on compressor motor. When mounted negative terminal will be toward the outside of the bike and positive will be toward the inside of the bike. Drill hole in plastic subframe and mount relay with ziptie as shown in video.
(Motohorn can be mounted on the left side frame rail but may require extending horn trigger wires)

Locate stock horn on the right side of the bike below the a-arms. Remove the horn trigger wires. Route horn trigger wires from relay to horn trigger wires on bike. Black wire from relay goes to green/blue wire - on stock horn wire. Red wire from relay goes to grey wire + on stock horn wire

Route red and black wire with ring connectors to battery. Red wire goes to + positive side of battery and black wire goes to - negative side of battery

Black wire from battery goes to negative side of compressor with provided female spade connector

Short black wire from relay (87) goes to + positive side of compressor

Tighten clamps on horn and test horn. Reinstall side panel and look for friends to impress
EASILY WITHSTANDS VIBRATION, DUST, RAIN AND ALL WEATHER CONDITIONS
You can take your MotoHorn™ to the heats of Florida, to dusty backroads of Texas, or even to extreme colds of Alaska. We've designed it to work in all riding conditions!
INCREASES SAFETY WITH DISTANCE
Being easily heard at a longer distance gives everyone more reaction time. Your honk hearing distance can be increased 3-fold with the MotoHorn™ — a standard motorcycle horn can not compete with that.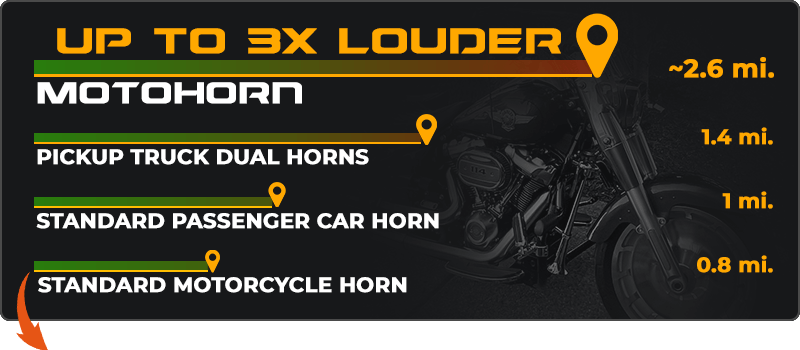 DID YOU KNOW?
Modern vehicle soundproofing can reduce sound inside a vehicle as much as 20 decibels.
LOUDNESS

MAKES A DIFFERENCE:
Greatly improved loudness increases honk distance, everyone has more time to react.
Extra loudness lowers the risk of injury and potential damage to your motorcycle.
Loud preventive honks will highly improve your odds of being noticed in traffic.
Having the best safety equipment gives you a safer and less stressful riding experience.
If you have any questions about this product email us at LamonsterGarageSales@gmail.com
WARNING: California Residents - www.p65warnings.ca.gov
Product Videos
Custom Field
Product Reviews
It is by far the loudest horn I've ever heard for a motorcycle. It's louder than any car and almost as loud as 18 wheelers. This thing is freaking awesome . the only downside is I couldn't get the black one as they were out of them

Installed this on my wife's 2015 F3 It is just what she wanted.It is LOUD!!!!! Installation was straight forward after watching the video Lamont did. At my wife's, request, I mounted the horn under the right side panel. The installation can be seen the the F3 Spyderlovers Facebook page.. Posted on 6-26-22.

Yup .. It is L O U D :) Install was straight forward. The clamps were easy to orientate for leg clearance with my Ultimate floorboards. This horn will get errant lane changers attention.

Fun install. Super Duper Attention Getter..